DiMeo Farms Media
New Generation Blueberry Farmers. Old Generation Values.
We greatly appreciate the media that featured our NJ blueberry farm. A new generation of DiMeo blueberry farmers are now carrying forward the over 100 year-old DiMeo family tradition and legacy of growing better tasting heirloom blueberries. Learn how to grow organic blueberries with advice and guidance from DiMeo Blueberry Farms and Blueberry Plants Nursery in New Jersey. CALL NOW (609) 561-5905 or pick blueberries at our blueberry farms or just buy large certified blueberry bushes for sale direct from real long-time blueberry farmers at our family blueberry farm, featuring a new generation of hard working DiMeo berry farmers. We also have strawberry plants, aronia berry plants, thornless blackberry bushes, cranberry bushes and thornless raspberry plants for sale at our popular blueberry plants nursery in New Jersey.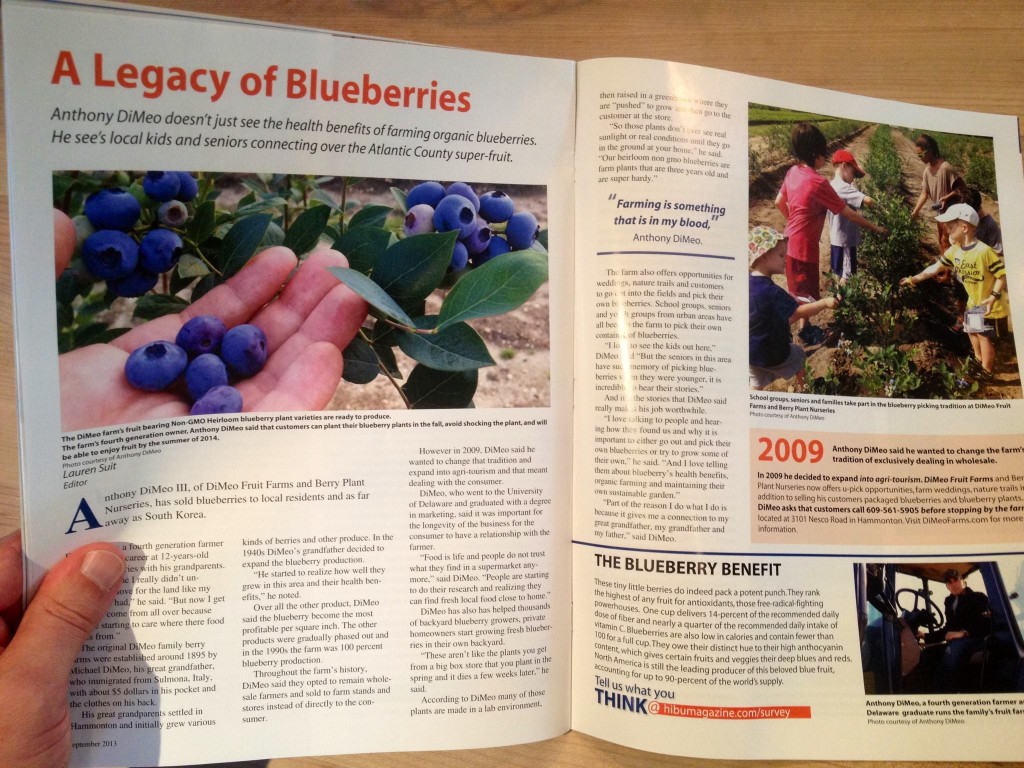 Our New Jersey family blueberry farm and old fashioned blueberry plants nursery can be often found in all types of media, since they usually call us first for quotes or blueberry planting advice for their readers or just to discuss blueberries in general. Here's another recent article that features our DiMeo blueberries… look, they are gorgeous Non-GMO, Heirloom blueberries. DiMeo Farms also has other Jersey Fresh products at our farm market located at our u-pick blueberry farm operation in the heart of the South Jersey Pine Barrens region. We are passionately proud of our roots here in the NJ Pinelands region as our you pick blueberries farm is surrounds by the Hammonton Creek where you can also enjoy kayaking with your loved ones during pick your own blueberry season from June to late August every summer in New Jersey.